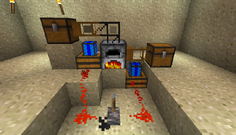 This article discusses the redstone engine in Buildcraft 4. For the version in Buildcraft 3, see here.
Redstone engines are the cheapest of the type of Engine and as such are the least powerful of the three types of engine.
Redstone engines, like all other engines, gain speed as they heat up, which increases their energy output per second. Unlike other engines, they will never explode on running hot. In fact, they produce more power when red and it is not advised to turn them off unless needed.
Like the other engines, the redstone engine can be turned on and off using a redstone signal, and requires an active signal in order to activate.
Break it with a pickaxe to get it back. 
Recipe
Setup Demonstration
Power Output
Uses