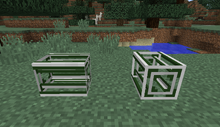 The heat exchanger is a block used in the creation of a multiblock structure of the same name. When placed in the world, it will be placed perpendicular to the horizontal direction the player is looking, i.e. if the player is looking north or south the block will be placed facing the east-west axis.
The heat exchanger is crafted using 4 iron ingots, 3 glass, and 2 iron gears, and when crafted, gives one of itself.
Multiblock
Edit
todo
Community content is available under
CC-BY-SA
unless otherwise noted.