We're Getting Mutants in the MCU - The Loop
Play Sound
The heat exchanger is a block used in the creation of a multiblock structure of the same name. When placed in the world, it will be placed perpendicular to the horizontal direction the player is looking, i.e. if the player is looking north or south the block will be placed facing the east-west axis.
Recipe
[
]
The heat exchanger is crafted using 4 iron ingots, 3 glass, and 2 iron gears, and when crafted, gives one of itself.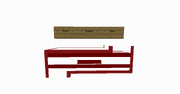 Multiblock
[
]
When three or more heat exchanger blocks are placed in the world, oriented properly, they form a multiblock with two inputs and two outputs. You can add up to three extra blocks in the middle to make it function faster.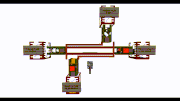 When both fluid inputs are running at the same time, and there is space for both fluid outputs, the multiblock shows a flowing animation, and the hot and cool fluids from from right to left and bottom to top, respectively. Fluids can be input by powered Buildcraft fluid pipes, or by Thermal Expansion pipes, and can be accepted by either pipe (without requiring power) or dispensed directly into a tank. Fluids will not flow unless both fluids can flow simultaneously- if either inputs or output is interrupted, the exchanger will not function. Water can be used as the "cool fluid" input, in which case it will only output a steam particle effect, and lava can be used as the "warm fluid" input, outputting only smoke.
Hot fluids cannot be used in Combustion Engines, and cool fluids usually have worse products when distilled, making the heat exchanger vital for advanced fuels.