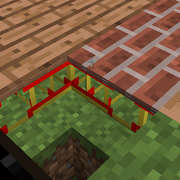 New in BC version 3.2 for Minecraft 1.3.2 are pipe facades.
These simply allow you to place a flat panel over your pipes to hide them and (except in early versions) allow levers, etc. to be placed on them.
NOTE: Obsidian pipes will eject blocks through the hole pipe facade, but will not suck in items, however.
Facades are crafted using the Assembly Table and are made from 3 Structure Pipes and 1 of whatever block you wish to make the facade of.
see: Crafting Guide
Unobtainable facades
Edit

It is possible to obtain facades for blocks that cannot normally be used for this purpose using the /give command. The data value of the facade is 16 times the block ID, plus the data value wanted for the block. For example, 16 ×61 + 4 = 980, which when used as the data value for a facade appears as a furnace facing west. (They can also be enabled if you enable them in config.)
Grass block facade tops show a grayscale grass texture instead of coloring it to the surrounding grass.
Community content is available under
CC-BY-SA
unless otherwise noted.